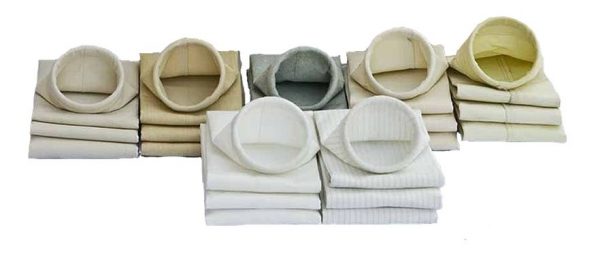 Dust Collector Filter Medias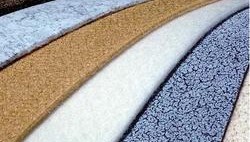 Choosing the correct baghouse filter bags and cages is critical to filter bag life. There are several factors that need to be considered when choosing a fabric.
Operating Temperature (Max and Min)
Air to Cloth Ratio
Gas Stream Chemistry
Cleaning Method
Particle Abrasion
Budget
This chart provides a general guideline that can be used when evaluating fabrics: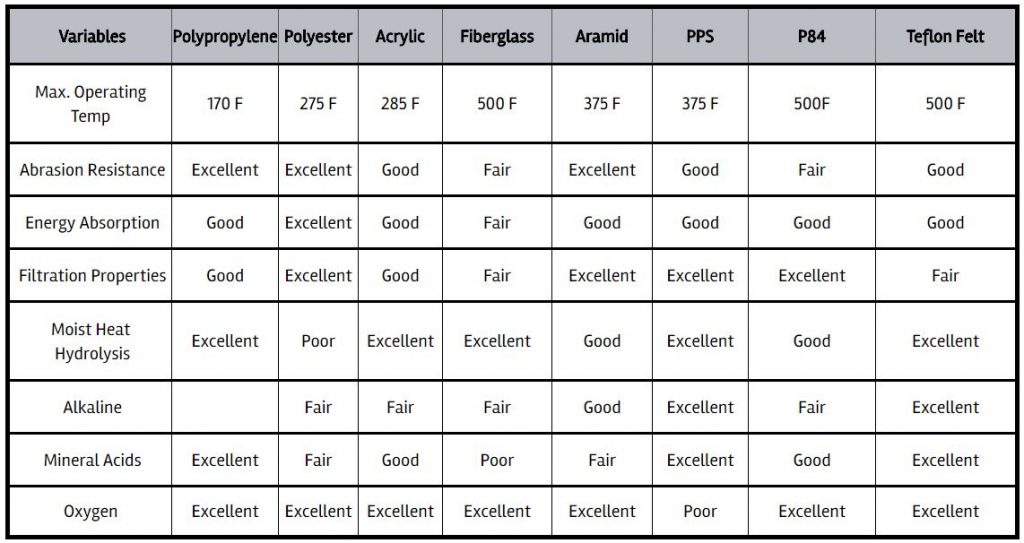 Finishes & Teflon Can Be Confusing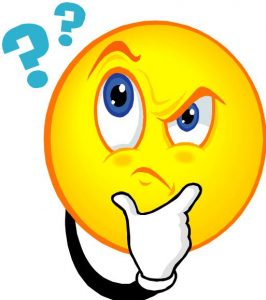 Finishes are applied to fabrics so that the fabric can operate in certain environments. The chart below provides information on the different finishes available and why they are used.
Different fabric manufacturers use different recipes to develop their treatments or finishes. When comparing one manufacturer to another, make sure you obtain detailed information about the finish and fabric construction. Costs can be significantly affected by a manufacturer changing or altering a fabric or finish. These changes may reduce the cost, but may compromise the life of the filter media.
The word Teflon causes lots of confusion when trying to source filter bags.
Teflon is a brand name of a fluorocarbon discovered by DuPont in 1938. There are many different types or variations of "Teflon" used in the filtration industry.
These include:
Teflon Filter Media / PTFE Treatments / ePTFE Laminates
The chart below provides information on the different finishes available along with where and why they are used: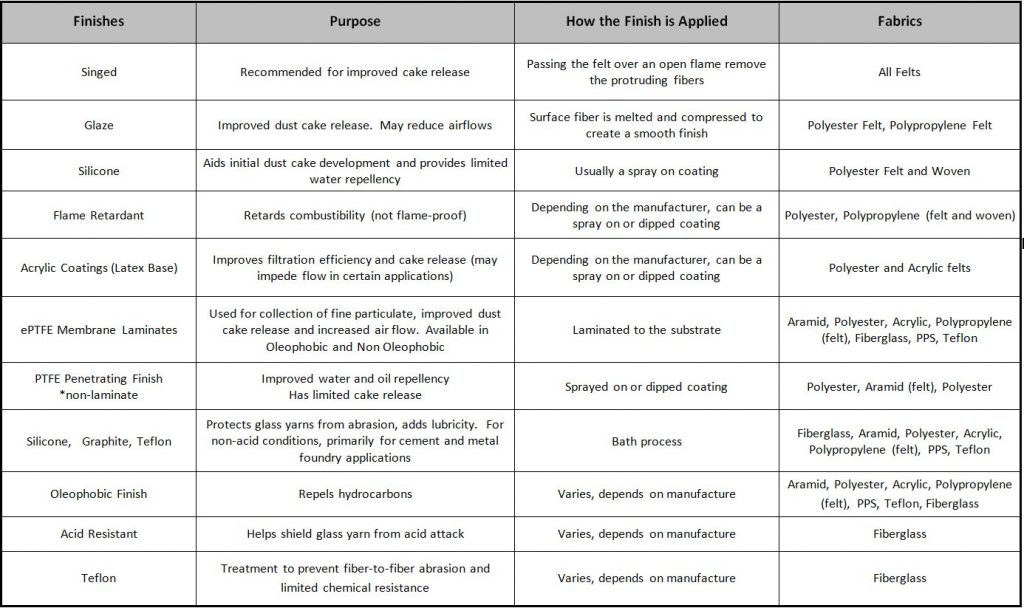 Surface vs Depth Filtration
Depth Filtration
There are two types of filtration that can occur in a baghouse; depth filtration or surface filtration.
Traditional fabrics use depth filtration. The filter media acts as the support structure for the dust cake. Dust cake is what filters the incoming dust, not the filter media. This is why it is critical to either inject a pre-coat powder prior to starting the process or season the filter bags using lower flow over time to establish a dust cake.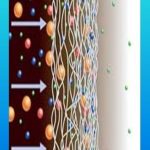 Surface Filtration
Filter media with an ePTFE membrane laminated to the surface of a filter media is classified as surface filtration. The ePTFE membrane surface acts as the dust cake and provides the collection necessary to achieve 99.9% filtration efficiency.
Since no dust cake is required when using ePTFE membrane, you will be able to lower your pressure drop across your collector which in turn will increase airflow while reducing your cleaning cycles which will help increase your filter life.
Hydro-Entangled Filter Medias
Hydro-Entangling is the process of creating a non-woven fabric using high-pressure jets of water. Polyester, Aramid, PPS all can be produced using this process. These fabrics can also be laminated with ePTFE expanded membrane.
Advantages of Hydro-Entangled Fabrics:
Higher Efficiency than standard felts, at lower weights

Higher Strength levels than standard felts, at lower weights

Offers money savings through the use of lower weights in the same applications
Want to learn more about Hyrdo-Entangled fabrics, contact us. We will walk you through how the technology is used to create fabrics and how this fabric can work for you.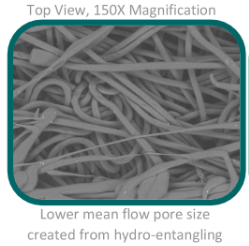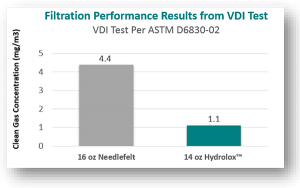 Have questions, let us help!
BVA LLC
USA Sales Division
13017 Delmar Street
Leawood, KS 66209
Phone: 913-257-5207
Fax: 913-681-8660
Copyright © 2013-2022 BVA LLC. All rights reserved