Dust Collector Cages for Filter Bags for all types of OEM dust collectors.
Cages are available in:
Carbon Steel
Galvanized Steel
304 SS
316 SS
Epoxy Coatings
Bag to cage fit is a critical component for proper filter cleaning along with filter bag life.
In most applications, a 1/2″ pinch offers the best bag to cage fit. If you are using ePTFE laminated filter media, we suggest using just 1/4″ pinch to help reduce the amount of flexing of the filter media.
When your filter bag does not fit the support cage properly many issues can occur; lack of cleaning, excessive flexing between the cage wires causing holes to form and if the bag is too long or short for the cage, this also can also cause damage and reduce your filter life.
Depending on your process, your cages may not need to be replaced each time you replace filter bags.
With any filter bag change, we always recommend you inspect cages for any damage or wear that could impact the life of the newly installed filter bags.
How to Inspect Your Cages: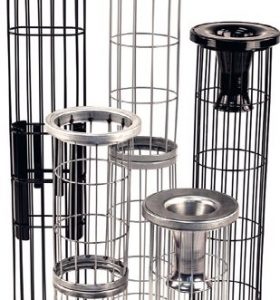 BVA recommends you keep 15% spare cages in stock.
Have questions, let us help!
BVA LLC
USA Sales Division
13017 Delmar Street
Leawood, KS 66209
Telephone: 1-913-257-5207
Fax: 913-681-8660
Copyright © 2013-2022 BVA LLC. All rights reserved